Posted on
By Stuart Armstrong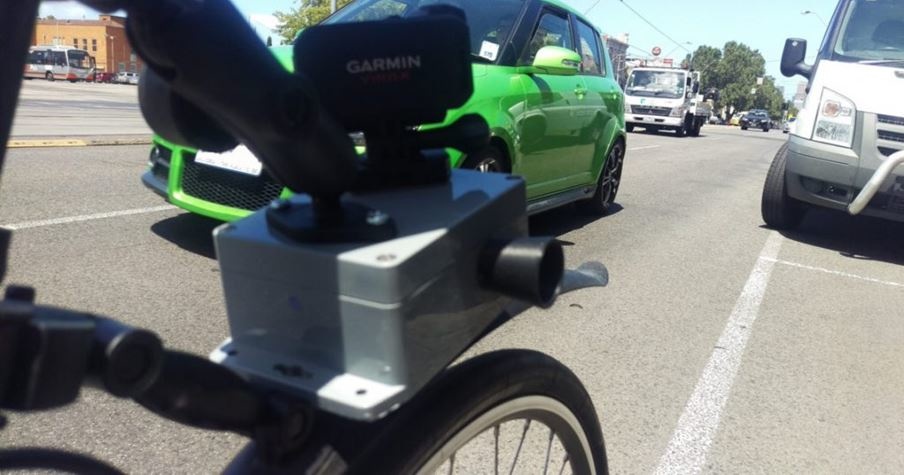 Many of Australia's states/territories have enacted laws to ensure drivers must pass cyclists with at least one metre clearance (and often, 1.5m if over 80km/h).  Many think it's a great idea for all of the obvious reasons, but there's a lot of discussion about how effective it is, and how it can be policed.  However, there's not much hard evidence regarding how close cars do actually pass cyclists.  That's what this study is all about.
PassBox installed on a Kona PaddyWagon, ready for the daily commute
The Passbox Cycling Safety Study seeks to accurately measure just how close cars are when they pass a cyclist.  In order to measure it, there's a number of GPS enabled Garmin cameras, and a little box with precise ultrasound equipment to capture people's rides.
Melbourne Bicycle Users Group (Melbourne BUG) have recognised that although there are some universities studying this, the lack of hard evidence was damning.  So, their volunteers have set up the Passbox program in order to address this.  They are looking for volunteer riders who regularly ride on the roads in and around Melbourne who are happy to have the system fitted to their bikes.  (No rack, parked securely, and ride in the City of Melbourne at least some of the time.)
That suits a few of our staff, so us at Velo put our hand up for one, which we've mounted on a Kona Paddy Wagon.  This will be the primary ride of our staff member with the longest-commute, but may also be swapped around to a few others just to capture a bit more of the inner suburbs.  (We love the Paddy Wagon for a commute – relaxed, dependable steel with a good spec and lifetime frame warranty on its Reynolds 520 steel).
If you'd like to get involved in the project and have this on your bike for a week or so , check out the Passbox website.
Kona Paddywagon fit with the Passbox system (as well as MonkeyLectric persistence of vision wheel lights for a bit of fun!)