Posted on
By Stuart Armstrong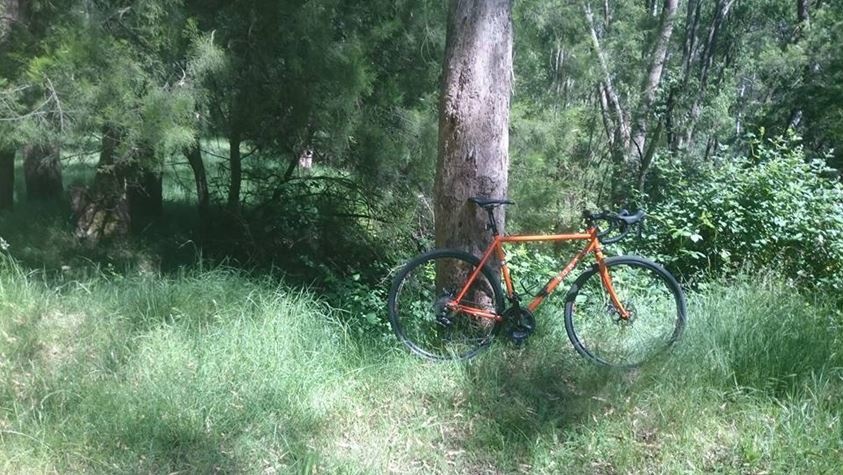 I have always felt divided between two vastly different forms of cycling, a fun, aggressive city commute and largely unplanned, rambling, intrepid tours. Until now I've had two bicycles for this, my lovely 80's Italian Moser steel road bike, and a giant 16kg chunk of aluminium as a tourer. I was starting to spec up a new steel tourer when the frame of the Moser gave up (total failure of the downtube near the headset). Having to replace both these bikes set me on the path of trying to find the ultimate hybrid, an aggressive and fun tourer.
There are a couple of obstacles to a design like this, which go some way to explaining why these bikes aren't readily available. First and foremost, the shifting; an aggressive or city ride requires quick and easy access to your gears. This is no obstacle for a bike with flat handlebars. However, with dropbars there are compatibility issues between Shimano road components and ultra low gear ranges necessary for touring. Two custom solutions are necessary to overcome this. Firstly the road rear derailleur and cassette were replaced with Shimano's mountain bike versions. Secondly installing a very clever aftermarket shift multiplier (such as that from Wolf Tooth) to allow the road shifter to properly actuate the mountain derailleur.
Alternatively, SRAM, another group set manufacturer, has mountain and road groupsets with no compatibility issues. However, they are more expensive than Shimano and a lifetime of familiarity can be hard to overcome.
High quality wheels are a must for a bike like this. For an aggressive bike in the city, acceleration is important. One of the most effective ways to improve acceleration is reducing the weight of your rim. However, a touring bike's wheels need to be able to take serious punishment over long periods of time without failing. This necessitates some compromise, but high-quality rims reduce this to a minimum. Touring rims generally range from 500g to 820g. The DT Swiss TK540 used for this build is a very well regarded touring rim weighing just 545g. To reduce weight the spokes used were double butted (thicker at the stress points and thinner elsewhere).
In my opinion steel is the only material to make a touring bike from. It has more natural flex and therefor shock absorption than an alloy bike. They handle the abuse touring can throw at a frame and, in worst case scenarios, most little towns will have someone who can weld steel. I have always been a solo tourer and I'm rubbish at economising my kit weight. As such a steel fork is a must to allow me to carry a moderate load on the front wheel. A carbon fork is a great way to make have a fast aggressive tourer, however is only realistic for shorter trips or those who achieve Spartan ideals in packing their kit. Bikepacking/Cyclocross bikes such as the Jamis Renegade are perfect for this purpose.
For me the choice came down to two makers of rugged, functionality minded steel frames, Soma and Surly. Both make an all-purpose cyclo-cross that they sell as frame and fork. These are the Soma Wolverine and the Surly Straggler. With very similar geometry and steel quality, the Soma Wolverine won out for two reasons. Firstly the functionality of the sliding dropouts and frame break allows the wolverine to one day to be a Belt-driven Rohloff Tourer (a pipe dream of mine). They also allow for the use of thru-axles. Secondly, that orange paint job is just irresistibly gorgeous!
If this sounds at all interesting feel free to be in touch.  Ollie has recently headed off for India, and will be completing his ride in Eastern Europe – we'll be following his journey through the interwebs.  Kyle has also created a commuting/touring Wolverine, with a different spec for his different preferences/needs. But more on that one later.